feeling: honestly well rested! :D
Well..today was one adventurous day. Isaac, and our H.S. classmates Phil, Matthew, and Phil's GF Sam and I went to hike pillboxes in Kailua area. When I woke up this morning it was raining. I was hoping it wouldn't be too rainy since it was also planned to go to the beach. Lets just say that it was rainy all over but altogether it was fun!
Matthew and Isaac
It got foggy at one point. I've never done this hike before. I've also never hiked in the rain either. So this experience was different but fun.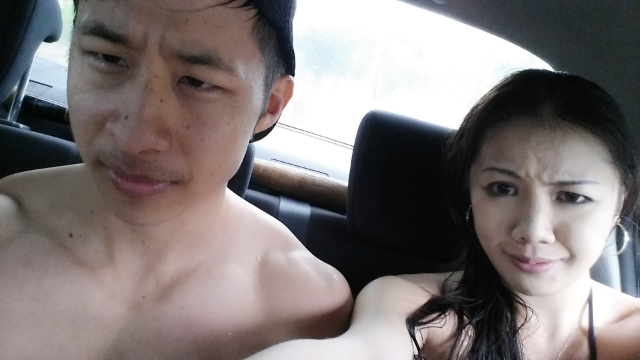 Isaac and I after the beach. He said "North shore got nothing on Lanikai." I
said "No ways, man. Lanikai got nothing on the North Shore!" lol
We then ate at Kalapawai? I cant remember if that was the name..LOL
Where I had a bagel and the motherload of cream cheese. I had to give some to Isaac. It was too much. Plus this guy wanted to eat a cinnamon roll..which lead him getting a quart of milk. FYI I drank more than half of the carton. LOL I had a bite of the roll..talk about instant diabetes! LOL We even scraped off most of the icing.
We then heading back..LOL due to the rain and the clouds the mountains looked like Jurassic Park.
Then I pass out due to the lack of sleep I had the night before!
It was one fun adventure. I hope we get to do it again soon!